Debby Hadden - Rider, Trainer, Teacher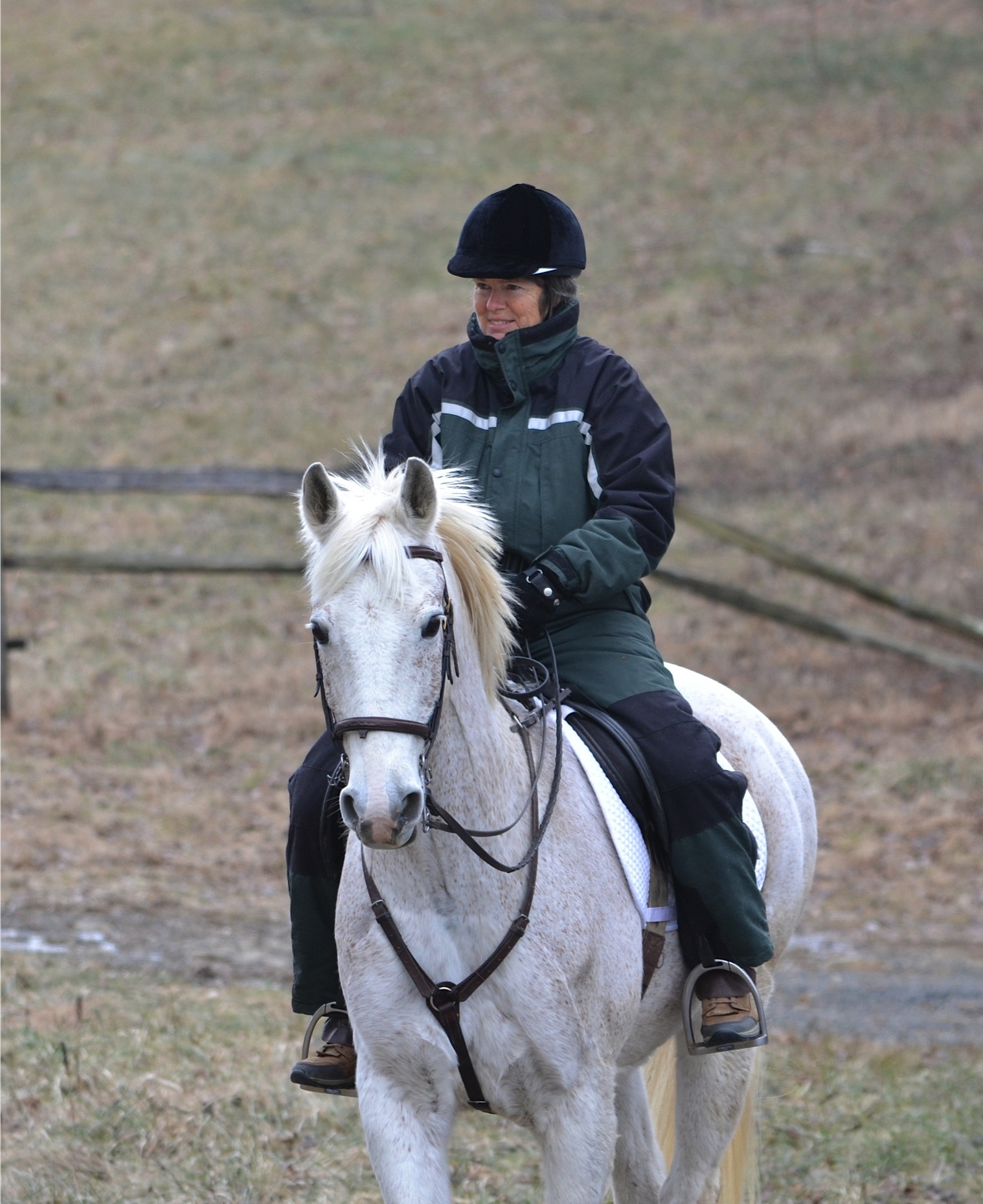 Debby Hadden was born in Sountheastern Pennsylvania, attended Westtown School and Potomac Horse Center. She was a member of Rose Tree Pony Club where she was introduced to many horse sports. She showed mostly Large Pony Hunter on her small Quarter Horse gelding, Señor Wimpy. Through Pony Club she learned about Eventing. Fritz Stecken taught her dressage and Micheal Vermeulen was a major influence on her jumping.
As an Eventing "groupie" she landed a job with then Olympic hopeful Tad Coffin as his groom during the time he took lessons from Micheal Plumb and Jack LeGoff. Other work experience includes Winter Wood which stood the stallion Catch On Fire. Debby started two seasons of two year old horses there. She spent a summer exercising two year old race horses and a winter exercising field hunters in Unionville, PA.
From 1981 to the present Debby has taught riding, taking educational courses when ever possible. She is past President of Centered Riding Inc. and past President of Delaware Valley Combined Training Association. She is currently is on the board of Oley Valley Combined Training Association and a past member of Connected Riding. Debby shows her Arabian horse, Sycamore Sam in OVCTA schooling Dressage Shows and Fox Hunts him with Dr Todd Addis' Warwick Village Hounds.
Horse Educational CV:
1986 to present: Peggy Cummings, Connected Riding
2012: Whole Horse Dissection Clinic with Dr. Ivana Ruddock
2012: Two lessons with Bettina Drummond
2010: Whole Horse Dissection Clinic with Dr. Ivana Ruddock
2007: Five Day TTEAM Training with Linda Tellington-Jones
2005: Painfree Back and Saddle Fitting Clinic with Dr. Joyce Harmon
2005: The Dynamic Horse Seminar with Dr. Hillary Clayton
1986, 2002, 2003, 2005: Completed and then Assistant taught
Introductory Course in Teaching Therapeutic Riding at Thorncroft
1999- 2005: Five courses -Zahourek Anatomy In Clay
1986-2001: Centered Riding with Sally Swift: Lessons and Clinics to Level 3 Centered Riding Instructor
1990s: Three Lessons with Bettina Drummond
1991: present day many lessons and clinics with Wendy Murdoch, Murdoch Method
Lessons from Micheal Vermuelen
Lessons from Fritz Stecken for 10 years
1975: B rating from United States Pony Clubs
1974: Horse Masters Instructors Certificate from Potomac Horse Center, Collett Stevens